So you wanna get published, right? So you think only a big house can get you anywhere worth getting, right? So, you think you need an agent first thing, right?
I thought all these things and have the credentials to prove that I've been on a literary journey: English major, Phi Beta Kappa, teacher, professor, MFA degree, literary journal editor, literary prize winner. But no big house and no agent.
Instead, I did what some may think is crazy. I went with a product development company that dabbled in publishing. But my book got out. And I went to work. I have an active public
Facebook
page, a
Twitter
account, a
website
always under revision as new stuff happens and I write a
blog
where I try to post at least once a week.
Today's post that you are reading would have been this essay. But this site begged for it and it's theirs. But later you may see this post on my
blog
. Go check out this:
How to buy a dress and end up with a book party
.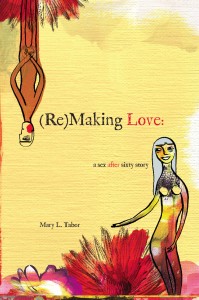 I don't tweet about my memoir
(Re)Making Love: a sex after sixty story
much, though some. I don't blog about my book much, but some: actually, I blogged the book while I lived it—that's the first crazy-some-say thing I did before the product development company found me—and that accounts for the banner of a blog that deals not with erotica but with literary thought, interviews and essays on writing and books.
Now you'd think a book with this sordid, unconventional history wouldn't be doing very well, right? And, indeed, I'm not getting rich. But is that what we artists are really about? Okay, a girl could hope but that's never been the goal: The work will out.
But get this: The small print in the visual for the book from Amazon says, #7 top rated in the Kindle store for Non-Fiction, Biographies & Memoirs, Arts &literature, Authors.
The week before it was #5 behind
The Diary of Anne Frank
and Steven King's
On Writing.
And guess what: The book party at Upstairs on 7
th
(aka: "How to buy a dress and get a book party") resulted in the promise of another book party by one of the women who came.
Then I went to dinner with a banker-friend I know and told him what happened. He called his wife and is planning another book party and he'll be providing the wine.
Is there a moral? Ain't no good here at morals. But I will say this: If you put your heart and soul into your book and you've edited it like crazy with a cool eye, had others eyeball it and critique it, then find a reputable publisher and work—yes that means
you
—to sell one book at a time. Because like the memoir I wrote, it's all personal.
PS: Another piece of good news: A new and much more experienced indie publisher has taken my memoir. Be sure to check out the second edition (more edits and a prologue) now from
Outer Banks Publishing Group
.